Leather Seats
Custom Aftermarket Leather Seats
Leather seats are the ultimate upgrade to your vehicle's interior. Made with Grade "A" Italian automotive leather hides, each leather kit is made custom to fit your vehicle in the color and style that you choose; completely customizable down to the stitching color and style. The look and feel of our aftermarket leather kit scream luxury & elegance.
PDA offers aftermarket leather seat options for any car or truck, we provide operator-inspired custom leather interior and designs that are put together by our team of professional designers. PDA leather seats are created from the best automotive materials, which will be precisely engineered to fit perfectly with your vehicle. Our well-trained professional installers will reupholster your cloth interior with aftermarket leather ensuring the proper fit.  We can also add ventilated and seat heating elements to your vehicle at the same time.
Leather Seat Covers vs. PDA Roadgear Leather
Our aftermarket leather seat upgrades are much more than a regular leather seat cover. A standard slip-on seat cover will just slip over your general seat, often resulting in a wrinkled or loose look and movement while driving. PDA's leather interior upgrades can replace any cloth or trim in your vehicle, which includes all seating, door panels, trim, or center console surfaces you want to be covered in leather. Our aftermarket leather seat or interior upgrade will revamp your interior feel with style & elegance.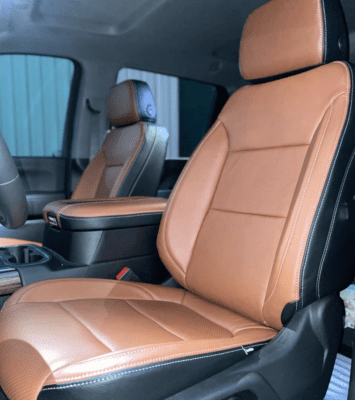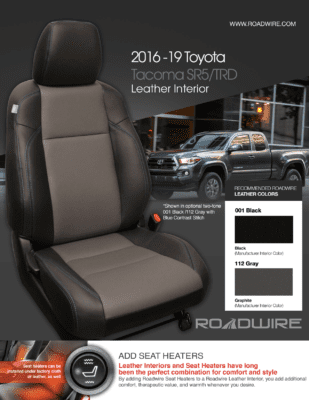 Custom Leather Seats For SUV's, Trucks, Cars
At PDA, we service any type of vehicle such as SUVs, cars, and trucks. In addition, we create leather seats to fit all models in any style or preference. These leather seat covers are more than just regular seat covers for your truck, SUV, or car. At PDA, our professional technicians give you customized leather interior for your car or truck taking the look and feel of your interior to the next level. We will offer you more than an excellent custom leather interior. In addition, we want to provide you with peace of mind with our warranty coverage.
High-Quality Kits For Leather Seat Upholstery Replacement
These are not basic seat covers. Instead, PDA's leather seat replacement and interior leather kits completely transform your vehicle's seat and upholstery look and feel. Our group of expert installers can customize your interior with the right color leather and the right color stitching.  That's what you call high-quality leather seats you can take to the bank.