Safety Product Solutions
Blind Spot Detection Systems
These devices constantly monitor the space in and around your vehicle's "blind spot," watching for cars or other large objects that may cause a collision when merging. Our blind spot detection systems can alert the driver with an audio and/or visual cue when it detects a potential hazard.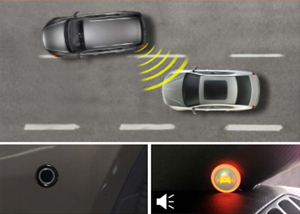 License Plate Mounted Blind Spot Detection System
The National Highway Traffic Safety Administration reports that roughly 840,000 blind spot related accidents occur per year. Many times blind spot related accidents are caused when a vehicle is changing lanes.
This license plate mounted blind spot detection system by Rydeen installs without drilling or cutting and works in nearly any type of vehicle. This system also works while in reverse warning you of vehicles approaching from either side. However, it won't warn you of objects directly behind you that are on the ground.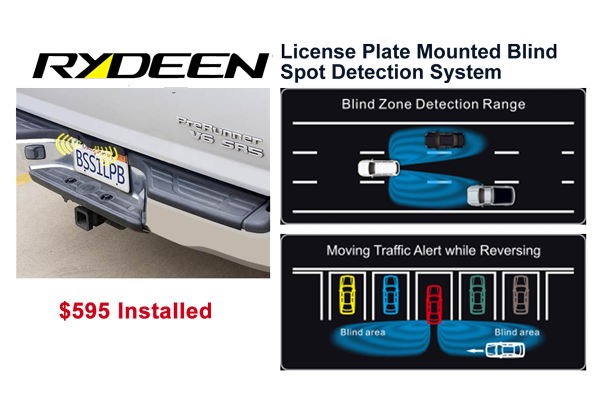 Radar Based Blind Spot Detection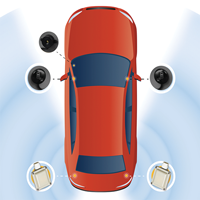 The radar based blind spot detection sensors expand your field of view and act as an extra set of eyes, notifying you if you become too close to a vehicle or object on either side of your vehicle. This added safety feature helps reduce accidents that would have been caused from failing to see what's in your blind spot.
3 Year Warranty
Alerts are shown when other vehicles, people or objects enter the blind spot of the vehicle, adding another level of safety
Compact Design
Selectable speed sensing activation through CANBUS
Audible and visual alerts
**This product is NOT compatible with metal bumpers**
Camera Based Blind Spot Vision
This aftermarket Camera Based Blind Spot Detection system uses a fully integrated system that turns your factory or aftermarket Front/Back/Left or Right side vehicle camera into an in-vehicle blind spot action camera, triggering when you signal; keeping your vision on that blind spot zone.
Fully integrated camera interfaces
Includes 4 video inputs (triggered through CAN)
1 Reverse Camera with Dynamic Guidelines (for cars without OE Camera)
1 Front Camera with Automatic Trigger (for cars without OE Camera)
Advance Warning DVR System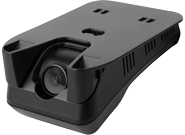 The PVR15W incorporates the latest technology including Optical Recognition of the road ahead of your vehicle. The PVR15W recognizes traffic lane marking and alerts the driver with an audible tone when the vehicle begins to drift out of its lane without a turn signal on when traveling on freeways and arterial roads at speeds greater than 35 MPH. Additionally, when traveling at or above 15 MPH it will recognize any vehicles directly in front and warn you if they pose a hazard or are suddenly too close for safety. These systems are designed to minimize drowsiness. Calibration of the system can be completed within a 10 minutes. No special training, certification, or equipment is required. This system allows you to set the level of warning, frequency, and even volume of the alert tones to personalize the system in a way the system in a way that works for YOU. The built-in DVR also gives you a recording of your driving, your route, and any event you may have encountered.