The golf cart is known for golf courses. Nowadays, golf carts are now easily accessible to be customized. But to make your golf cart stand out, you'll need a quality custom audio system. Imagine witnessing your grandpa riding a luxury golf buggy on the road, and attached is a custom audio system—what a beautiful sight to see. Now imagine you owning your golf cart with a custom audio system and building your modified golf cart to get it ready for summer, and riding it to the lake. Turn on your favorite type of music on full blast, whether it's country, R&B, hard rock, or hip hop to share your good taste in music. How awesome would that be? 
Custom Golf Cart Sound System
Like jamming out inside a car, people love to jam out their favorite music while riding in their golf cart. As the market continues to grow, having an excellent sound system in your cart has turned into a requirement. Of course, the golf cart is not shy when it comes to custom audio. From the backseat to the roof to the dash, people install their speaker pods wherever they possibly can on their golf carts. Unfortunately, as more people install custom audio systems on their carts, some do not follow most fundamentals, such as installing a sound system for golf carts. It's more than just drilling a hole into a box and screwing up the body of the cart.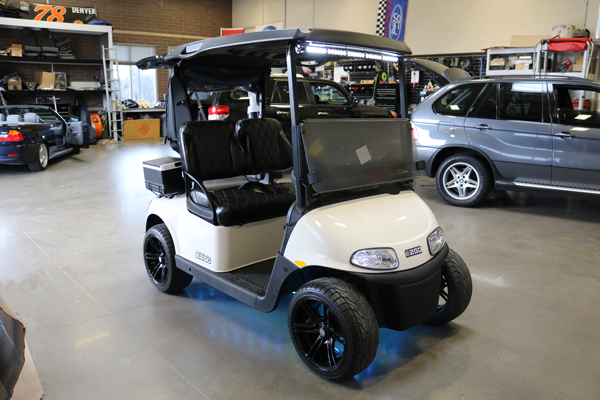 Creating the right concept and choosing the best-fitting design
The worst thing you could do when installing the custom audio system to your golf cart is setting it up wrong. You also need to determine the goals of the project. Where are you setting up the speakers? Do you want to use a radio or connect it to your cell phone? Is having bass a must-have with your speakers? What type of audio system would you need to beat the competition? These are the most critical questions you need to answer, and they will determine what type of audio system or speakers you need.
The following aspects are vital to choosing the best-fitting audio system:
Performance capabilities (wattage, features), 

Number of speakers, Bass or Treble requirements 

Audio/video capabilities, GPS, or other customizations 

Where it will be installed and what customization would be needed to accomplish their goals.
When cruising around your pimped out golf cart with your crazy out of this world audio system you'll experience the following:
Riding around around a lake or park while jamming out to your favorite music!

Showing off in a golf cart with a custom audio system!

Feeling great about how you have the best golf cart on the course!

Watch a movie or play Xbox that's connected to the custom audio system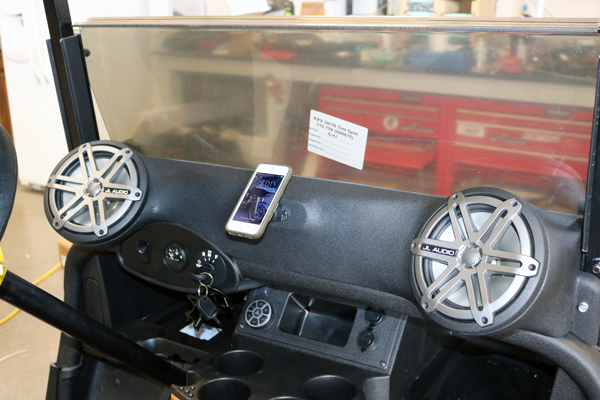 Overall, golf carts are now being used everywhere, not just in golf courses. Installing a custom audio system in a golf cart will make the golf cart more fun and enjoyable. Now is the time to show off your pimped-out golf cart with the evolution of car shows competitions. Not only that, but you can also take it while you're trick or treating or use it when you go get the mail. Be creative with it, and you'll be thankful for having a customized golf cart with a great audio system. 
Having it installed by professionals
Our PDA Road Gear team will love to help you install your custom audio system set up just the way you want it. With our decades of experience, our team will avoid the most common mistakes when installing the audio system. Your personalized audio system can be built into the dashboard, or we can create a custom top plate for an even more unique effect.
If you are interested in a custom audio system for your golf cart to make it a unique and fun experience, check out our website or visit us in person at our showroom.